---
It takes around one hour to drive from Tamworth to Nundle, a historic town with just under 300 inhabitants in NSW. Nundle was one of the first wool producing areas in Australia, and by the 1860s, was famous throughout the UK and Europe for producing the finest Merino wool in the world.
At this time, there was also a woollen mill in the area, though with the decline in domestic manufacturing and time moving on, this closed. Today, on the main street of Nundle there's a primary school, a post office and a pub. There's also a relatively new addition to the town, Nundle Woollen Mill, one of the only mills in Australia turning fleece into yarn and a team behind it that's committed to continuing the legacy of the region.
Opened in 2000, Nundle Woollen Mill houses machines that date back to the early 1900s that, remarkably, are still in use and clankering away almost every day. These machines – one of which is a magnificent carding machine manufactured by Platt Bros & Co Ltd in 1914 in Oldham, England – were rescued from a since closed mill in Geelong and after a time in Tamworth, were relocated to Nundle.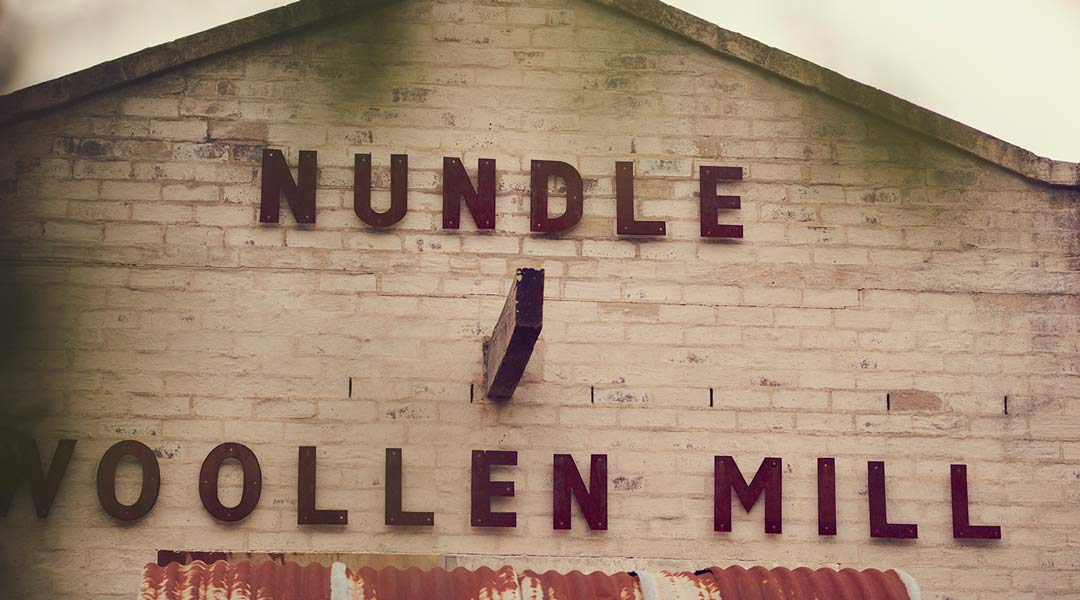 Kylie and Nick Bradford bought Nundle Woollen Mill in 2007 and have expanded it into a vibrant manufacturing business and unsurprisingly, a popular tourist destination. "We use historic equipment and production techniques to produce an extensive range of contemporary yarns, which are much sought-after by knitters, textile artists and soft-furnishing designers," explained Nick Bradford.
Much more than a small-scale niche business, Nundle Woollen Mill also has its own dye-house that takes yarn at the end of the production chain and transforms it into one of 40 colours; accounting for one of the best colour selections of dyed yarns in the country, in 4-ply, 8-ply, 12-ply, 20-ply, 72-ply and Wool Vine (equivalent to about 200-ply). The dye house is able to produce batches as small as five kilos, and offers custom colour mixing.
The woollen spun yarns Nundle produces are generally thicker than worsted spun yarn, and are perfect for knitters, crocheters and other fibre artists who recognise that "while the machines might be a bit slower, what they produce can't be faulted".
Annually, the Nundle Woollen Mills attracts 30,000 visitors and employs seven full-time staff who process around 6,000-8,000 kilos of clean wool. Visitors are able to see the full production line of wool and ask the team questions about the age-old techniques they employ. "All our production team love gas-bagging so it is not hard to strike up a conversation about the machine they are working on and production process," says Nick.
"What continues to amaze us, is that although humans have been making fabrics for 5,000 years, many visitors do not know how their clothes are made nor the difference between fibres. Visitors leave us with a new outlook on the textile industry and an appreciation of woollen products."