---
Just ten minutes by car from Owari-ichinomiya Station, is a vast glass structure reflecting the blue skies of Bishu. This is the headquarters of Nakaden Keori Co., Ltd., though the company also has facilities overseas and in Ichinomiya, which handle everything from yarn dyeing, weaving, stitching, and finishing.
Nakaden Keori got its start in 1960 as a manufacturing business without any in-house processing; it was only in 1971 when it established a facility for circular knitting with its first piece of machinery. Today, Nakaden Keori operates seventy-six looms, thirty-nine circular knitting machines, and four horizontal knitting machines, accommodating orders from small to large lots and the machines running 24 hours a day. The company also partners with almost 100 other manufacturers in the Bishu production region, making it one of the leading Bishu companies with what's considered the best-in-class production in its field. The textile-production industry hinges on both the specialisation of sub-sectors and cooperation between them, so it is very rare for a single company to have all of these services integrated in one.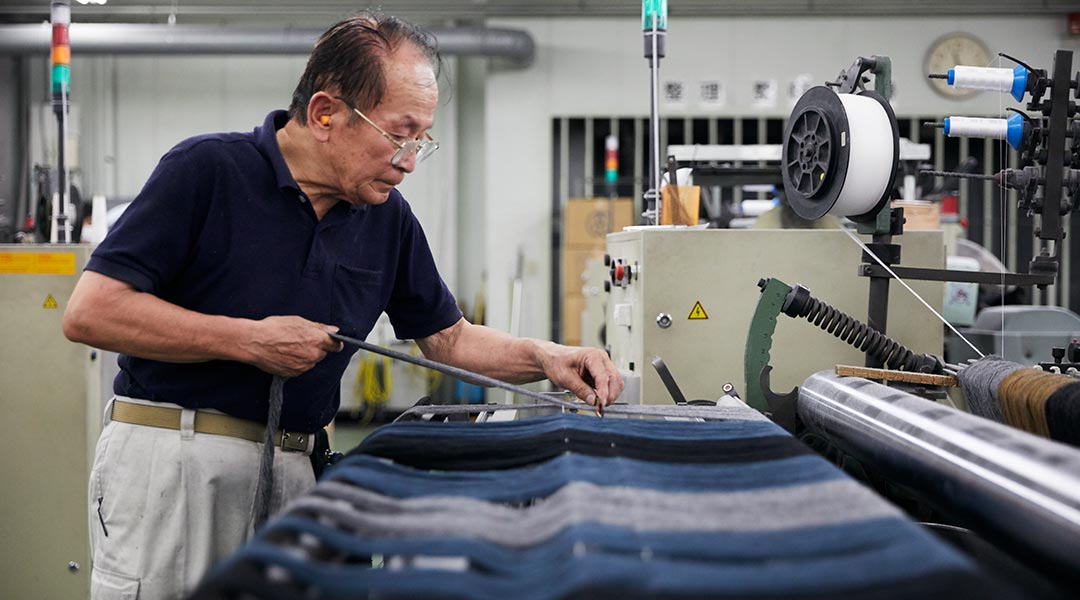 Having this much machinery and infrastructure means that the company has quite a number of personnel to operate this equipment and considerable risk, but returns are achieved through ardent teamwork and a constant attempt to take on new frontiers in craftsmanship. This enables Nakaden Keori to continue to drive higher quality and more consistent products while maintaining short lead times. In today's day and age, with factories increasingly closing, having fully vertically integrated production is a major strength and point of differentiation to competitors.
The company has for many years invested in a team of professional craftspeople who are able to adapt to the technology as it evolves. What stands out everywhere you look in Nakaden Keori's factories is the newness of its cutting-edge equipment. In addition to two sample warpers, there is also an auto-drawing machine which greatly reduces the time that artisans would devote to manually drawing threads, enabling the team to quickly respond to high mix, low volume orders. The plant has nine Dornier looms from Germany that use varying yarns of different counts simultaneously, which are further equipped with special devices allowing for the creation of interwoven textiles as well as details like woven text. The floor is also lined with high-speed 20-heddle looms that can produce complex weaves and high-speed air looms. The latest knitting machine from the renowned Shima Seiki group, the SRY183LP, is also on the Nakaden floor. This creates a completely new kind of textile called the Kneave; a fusion of weaving and knitting in one advanced material that has generated great interest at recent trade fairs.
Nakaden Keori's strengths lie in its ongoing pursuit of new expressions in textiles and in the infrastructural investment it has consistently made throughout the years, so it is no wonder its line-up of machinery is so advanced. With so many of the latest machines on the floor, it is essential for artisans to understand both the hardware and the fabric meaning only high-skilled veteran artisans work in this cutting-edge space. It is truly unlike any another textile manufacturer in the world.
Nakaden Keori's creative and innovative culture allows the company to support not only high volume orders, but collaborate with up and coming designers around the world. The company has been exhibiting for four years at Milano Unica, and its textiles are provided to European luxury brands. Nakaden Keori is also planning to announce a new collaboration with Gabriela Hearst, winner of the womenswear category for the 2017 International Woolmark Prize, and designer on the official schedule at New York Fashion Week. The output from these two masters of fabric is sure to be something to watch.