---
Natural colouration technology works well with wool textiles to produce a superior natural aesthetic quality and look. Wool absorbs natural dyes better than synthetic textile fibres.
Renewable
Natural dye is created from renewable and natural sources.
Biodegradable
Biodegradable in terrestrial and marine environments.
Natural aesthetic
Natural dye provides a superior natural aesthetic and look.
Natural dyes are extracted from natural materials such as plants, minerals and even shells and insects. There are two types of natural dyes. Adjective dyes which require a mordant (dye fixative) and substantive dyes which exhaust and fix on the fibres without the use of a mordant.
Plant-based natural dyes include woad, indigo, saffron and madder. Invertebrate natural dyes include Tyrian purple, cochineal and crimson kermes. Other naturally occurring dyestuff alternatives include bacteria derived dyestuff and bi-product dyes (such as dyes from food waste).
How it works
Natural colouration technology
Natural fibres such as wool, cotton and silk absorb natural dyes better than synthetic textile fibres. Natural dyes have been proven to work well with wool textiles to produce a superior natural aesthetic quality and look.
If the natural dye is an adjective dye the fabric must be prepared with a mordant before the dyeing process begins. If the natural dye is a substantive dye, it will fix to the fibre without a mordant. Once the fabric is prepared for colouration, there are a number of steps in the dyeing process depending on the natural dye used, the fabric and the desired colouration.
Woolmark Natural Dye Partners
Tintoria di Quarenga
Tintoria di Quarenga has created a natural dyeing processes called NATURALE, that uses more than 200 natural ingredients to create a wide range of colours and shades suitable for dyeing wool and other natural fibres. The Italian dyehouse was the first natural dyer to gain Woolmark certification for this innovative process, which continues to gain industry support as designers, retailers and consumers look to more sustainable options.
Tintoria di Quaregna NATURALE is an innovative yarn collection dyed with 212 different plants, herbs, roots, flowers, and tree bark. Natural materials are sourced from around the world in a sustainable way and 65+% of the materials are from Italy," explains Anna Mello Rella, co-owner, Head of R&D. "Colours range from delicate pastels to dark blue and black. No chemicals, additives, dye powders or extracts are used in dyeing."
BioDye
Woolmark partner BioDye seeds a scientific breakthrough using the best of nature to create 100% natural dyes and biodegradable ingredients through eco-friendly processes. The wool yarn and fabrics are coloured with natural dyes using non-toxic mordants to give the whole spectrum of colours that do not fade or bleed when machine washed and BioDye's natural-dyed wool fabric can offer enhanced UV-absorption.
Strengthening the eco-credentials of using BioDye's natural colouration technology is the holistic process the dyehouse employs. Its Dye-yielding plants have been identified that can be used to re-vegetate degraded forests and provide income to rural women collecting chromogenic leaves in a sustainable manner. The solid waste is used as manure and the treated waste-water meets parameters for irrigation.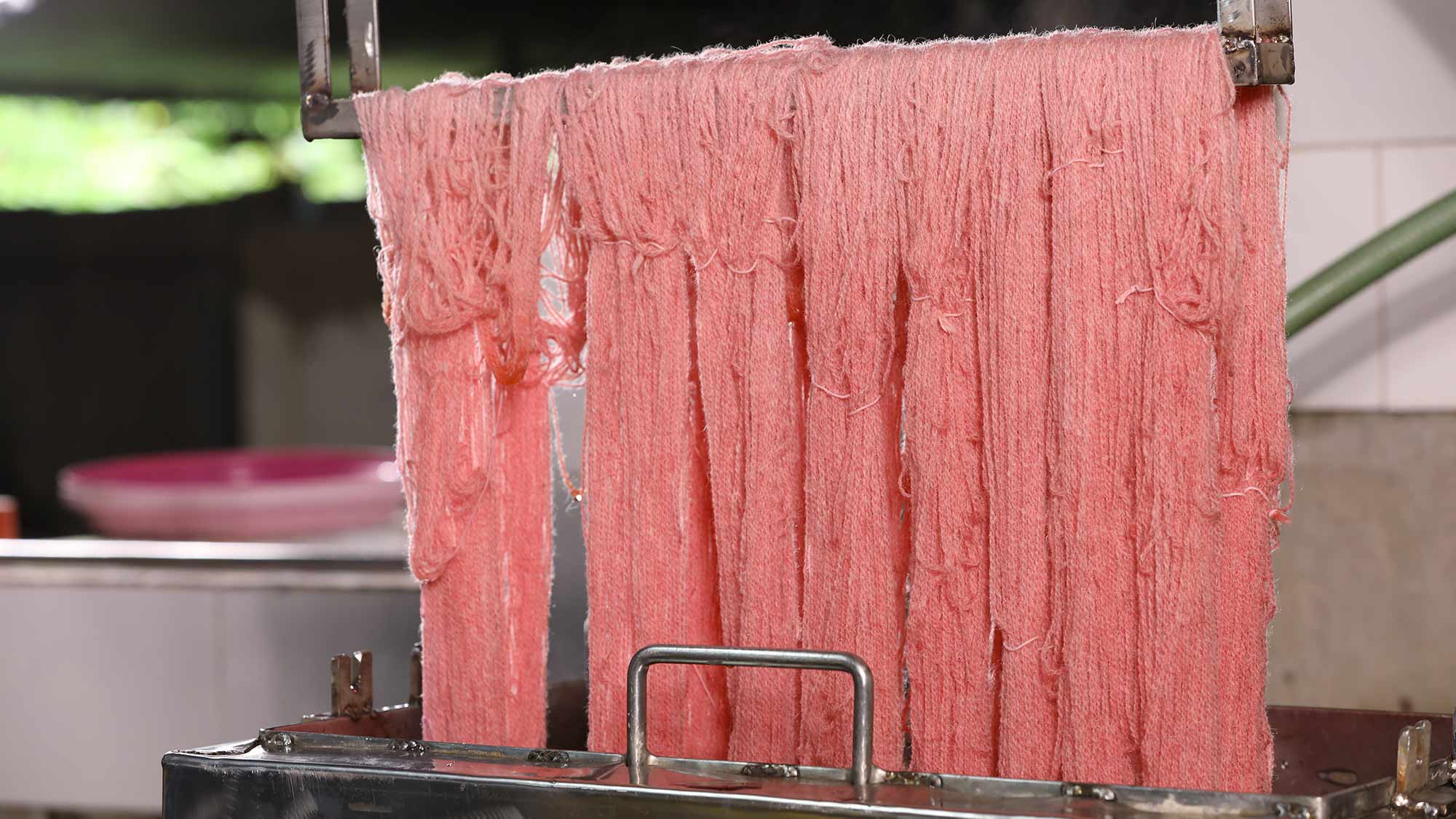 Woolmark partners using natural dye
Victoria Beckham
Victoria Beckham used Woolmark licensee Tintoria di Quaregna's natural dyeing process for the luxury label's latest knitwear collection.
Using flowers, leaves and berries, Victoria Beckham was able to achieve an earthy, warm colour palette without the use of chemical, whilst developing a collection with sustainability at its core.
Blindness, Feng Chen Wang and Richard Malone
2020 International Woolmark Prize finalists Blindness and Feng Chen Wang and 2020 International Woolmark Prize winner Richard Malone, used natural dye for their wool collections. Blindness used the process of natural fermentation and was able to take the indigo dyeing pigment from the plant and successfully dye wool fabrics and wool yarns. Feng Chen Wang, working with a group of artisans from the local community, extracted natural pigments from a variety of flora and herbal teas to create a sustainable, natural and environmentally friendly alternative to chemical dye, which was then applied to deadstock untreated wool by hand.
Working with a society of weavers in India, Richard Malone uses completely organic and plant-based dyes throughout his label. His International Woolmark Prize collection employs handwoven, traditional fabrics with organic and azo-free dyes, from protected farms that employ regenerative initiatives to sustain both jobs and the environment.
Extracts have been taken from the vembadam plant to produce a lilac colour, sky blue is achieved from the clitoria plant, marigold and myrobalan was used to complement the colour from the karungali plant and the wedlia plant produced luscious greens for the collection.