---
When Australian designer Josh Goot and stylist Christine Centenera launched WARDROBE.NYC in 2017, their intention was to reduce the speed of the 21st Century apparel manufacturing.
"The concept was to simplify and elevate modern urban dressing, while presenting an alternative to the relentless production and consumption cycle endemic to the fashion industry," explains Goot. Through 4- and 8-piece head-to-toe apparel kits, each designed around a specific way of dressing (sport and denim, for example), customers have an opportunity to pre-order well-made, timeless wardrobe essentials that can be worn as pre-styled looks or separated and seamlessly integrated with their own existing garments.
"Our model is about less," continues Goot. "We make clothes that are practical, versatile, timeless. Designed and built to last, our concept is inherently sustainable." Indeed, while many brands pride themselves on the eco-friendly attributes of their collections, it is a garment's lifespan that ultimately determines how impactful they are to the planet. Clothes that are loved and worn forever will always win out over those worn once before being disposed of, as evidenced by the recent release of the Global Wardrobe Study.
This week, WARDROBE.NYC released its 5th collection, "Tailored", highlighting the importance of natural fibres through its use of traceable 100% Merino wool pieces in what is the brand's most sustainable season yet. Drawing on supply chain transparency and the eco-credentials of Australian Merino wool – which is 100% natural, biodegradable and renewable – WARDROBE.NYC has increased its use of natural materials to upgrade its tailored fabrications and focus on sustainability.
"Merino wool has unique properties that are perfectly suited to both tailoring and everyday wear," says Goot of the fibre choice. "No other textile performs as well as Merino wool in the construction and end-to-end lifecycle of tailored garments."

"Our model is about less. We make clothes that are practical, versatile, timeless. Designed and built to last, our concept is inherently sustainable."

The release includes six Woolmark-certified statement pieces for women – a Merino wool coat, tuxedo blazer, trouser, midi wrap skirt, mini wrap skirt and knit turtleneck, The men's collection features five Woolmark-certified heroes – coat, blazer, trouser, pant and knit cardigan.

Both collections are crafted from 100% Merino wool – the ultimate ingredient in luxury apparel and the responsible choice for conscious consumers. Each garment's journey is mapped below. Trace the collections from Australia, where the world's best Merino wool is produced, through the supply chain until they reach the Wardobe.NYC headquarters.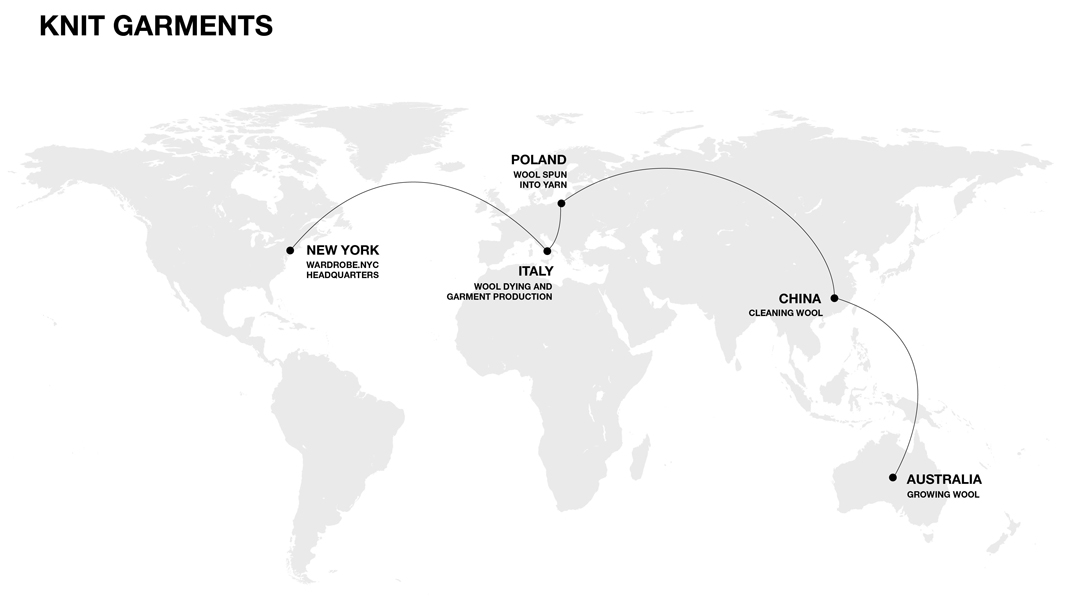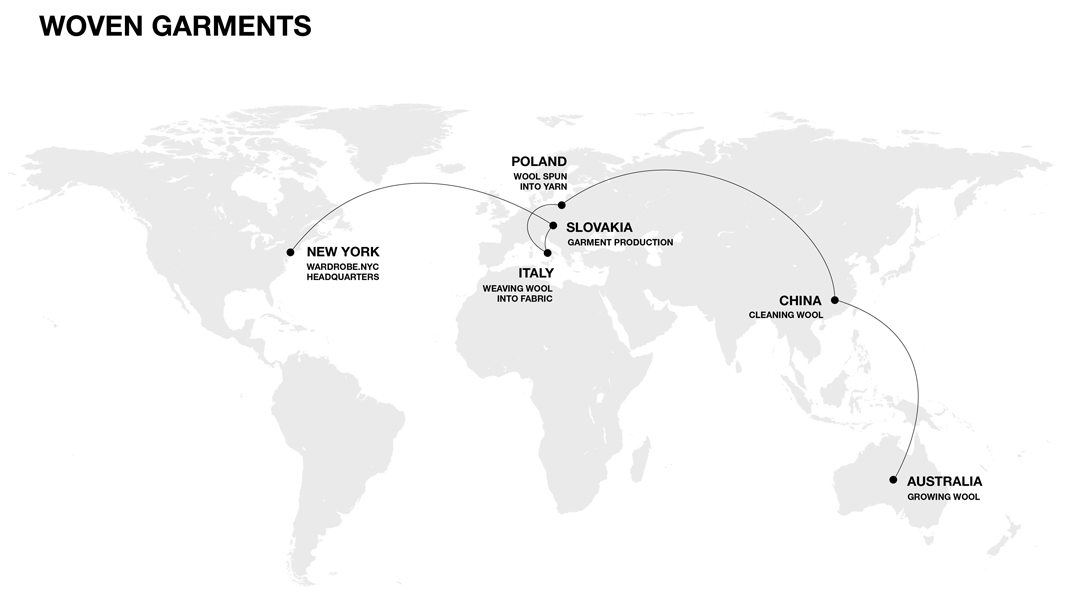 Lovingly grown in Australia, the Merino wool fleece is sent to China for scouring before heading to Poland and Italy to be spun into luxurious yarn and made into garments, with a focus on creating beautiful, long-lasting, versatile, quality pieces. A recent study conducted by Nielsen for The Woolmark Company underpins this, revealing that wool garments are amongst the oldest and longest-kept in both female and male wardobes, with the share of wool items increasing since 2012.
"Sustainability has always been important for WARDROBE.NYC. We believe that less is more, and create clothes that are timeless and designed to last," explains Goot. "Merino wool has played a fundamental role in our brand since we launched and in order to elevate our use of the fibre, we partnered with the global authority on wool. I have a long-standing relationship with the Australian wool industry and connecting with The Woolmark Company allowed us to deepen our understanding of the fibre and its supply chain. For a tailored collection, we couldn't imagine using any other fibre than Merino wool."
Release 05 Tailoring can be purchased online at WARDROBE.NYC and key retailers including Matches and Farfetch.