---
Despite the departure of some big-name brands from the schedule of London Fashion Week Men's, as many combine their women's and men's offering within the one production, the fall/winter 2017 season was as diverse as ever, and made room for new names to sit alongside the more established. We took a front row seat to examine the greatest trends to emerge – here, your wish-list for the season ahead.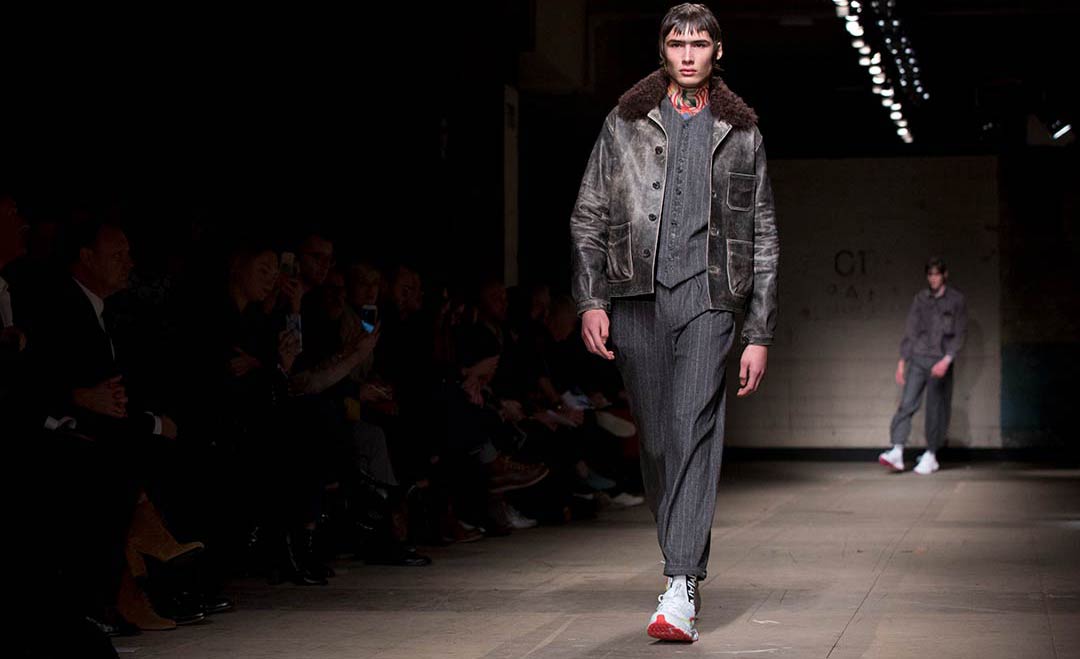 Like many designers showing in London this season, Topman Design sought to explore and celebrate archetypal ideas of Britain, with many reports pointing to the artistic community's interest in what a post-Brexit world looks like. Topman Design, the big-name British retailer's high-end fashion line, homed in on the aesthetic of nomadic travellers and dock and canal workers, with mismatched wool tailoring paired with hand-painted floral prints in utilitarian shapes drawn from military and workwear history, such as cuffed finishes and baggy cuts. Highlights included pleat-front chalk-stripe grey wool trousers and an oversized plaid coat, with the collection setting the mood for the days to come.
At E. Tautz, designer Patrick Grant similarly tapped into British subculture, but looked instead to the landscape documentary photography of Peter Mitchell. A prolific photographer of countryside scarecrows (his oeuvre comprises some 40 years of images), Mitchell's images depict somewhat disfigured, strewn together forms, and while the fall/winter 2017 collection of E. Tautz was altogether more polished, it nonetheless showcased a quixotic mix of styles and proportions, all tinged in that sepia-toned palette of the photographer. Baggy trousers tapered at the ankles, double-breasted jackets were cut loose from the body, knitted wool sweaters featured crew-necks and wide armholes, and the colours ran the gamut from grey to green with brown, amber and navy in between.
There was a level of showmanship to the Matthew Miller runway presentation – the models' faces were striped with red paint, and jewellery and hardware (such as carabiner clips on oversized backpacks) helped to tell a story – but at its core, it was a concise and well-executed collection of men's tailoring that will find love in the wardrobes of a raft of gentlemen across the globe. Luscious wool coats were cut straight to the body and left free of excess embellishment, while trousers were slim without bordering on skinny, giving them a timelessness. Of course, this collection still felt contemporary; bomber jackets added a youthful sportiness to the line-up, and hints of blood red, such as in ribbed knit turtlenecks, broke up the predominantly black and charcoal palette, but just as he has done in the past, Miller proved that he is, above all, a master tailor, a skill that never goes out of fashion.
British designer Oliver Spencer proved that he is an outfitter to customers of all walks of life in the most simple but effective way: by showing his fall/winter 2017 collection on the backs of a unique diverse cast, many of them friends, in his show. It's one thing to see an outfit in a catalogue of polished models, but to see it worn by someone of your own shape and size and age makes it easier for customers to identify with garments, and Spencer was able to show the absolute breadth of his designs, from the youthful (knitted wool turtlenecks and utilitarian-style trousers) to the more refined (double-breasted wool coats and herringbone-check wool trousers), to the classics that suit just about everyone (wool cable-knit sweaters and pea coats among them).
Casely-Hayford knows tailoring, and it showed in this collection in which Hayford senior (Joe) celebrated 30 years in the business by ushering in a fully-fledged women's line alongside the typical menswear offering. Highlights included felted grey wool overcoats with tassel-like embroidery slicing its centre (a similar effect showed up in a two-piece suit) and military-style wool coats in deep navy.
Chinese designer Xander Zhou has a way of taking the most traditional of menswear items – a button-down shirt and trousers, for instance – and thwarting its look so radically as to completely reinvent it, imbuing his collections with an artistic tension about which a thesis could be written. Through his work, Zhou creates a new identity for Chinese youth; having grown up looking at the rest of the world, the rest of the world now looks to China and the innovation it as a country proposes. For fall/winter 2017, Zhou's collection has a sense of the futuristic – what he describes as "techno-orientalism" – in the way he shrinks v-neck sweaters but explodes shirting, or renders trench coats in metallic fabrics, or adds flare to Maoist-style military coats. Wool featured prominently in Zhou's collection, such as in trousers and outerwear.
In a world first, underground music leader Boiler Room joined forces with The Woolmark Company to launch Agi & Sam's latest collection to an original soundtrack composed and performed by Holy Other. Hundreds of revelers experienced the immersive music-meets-fashion event in London's Welsh Chapel, while thousands more live-streamed the event from more than 150 countries around the world.
The collection marked a turning point former International Woolmark Prize finalist Agi & Sam, with the Merino wool-rich collection gaining widespread praise for its innovation. More than 50% of the collection was made from pure new wool, and 80% made from wool and wool-rich garments, including fabrics from Woolmark licensees A W Hainsworth, Reda and Dugdale Bros & Co. "Wool is one of the most versatile and innovative fibres in the world, and we have utilised a variety of techniques in order to reflect not only wool's individual characteristics, but a manifestation of the feelings of uniformity, togetherness and comfort that we are aiming to convey throughout the collection," explained the designers.