---
What makes a coat great? That it can be worn year-round, certainly – with climate change wreaking havoc on the weather, four seasons in one day is not uncommon anymore. But also that it can be worn forever: a good quality coat is an investment piece, and as such, it should not only last a lifetime in terms of its fabrication and construction, but also seem timeless, no matter how trends ebb and flow. Designers postulated this notion for fall/winter 2017, presenting a smashing line-up of truly excellent outerwear.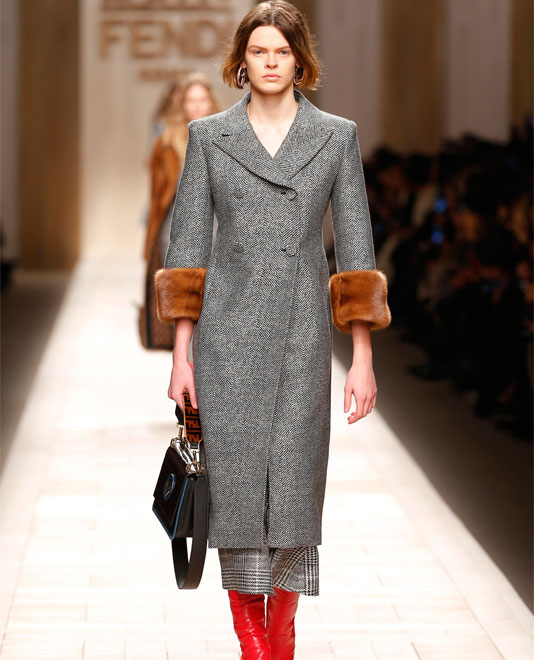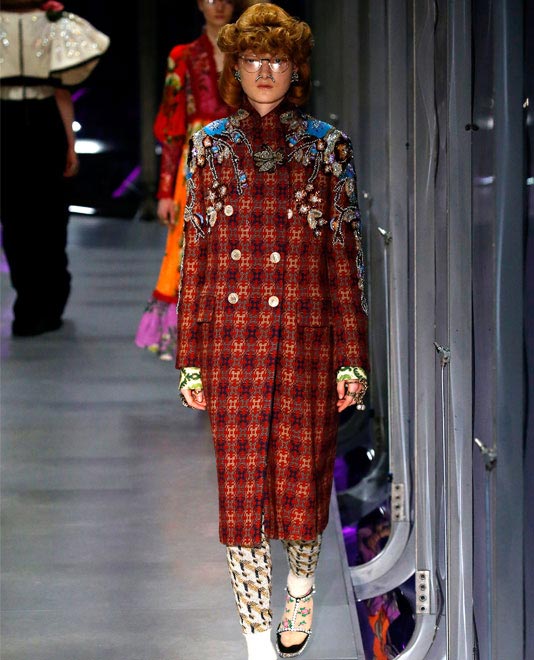 A look from the fall/winter 2017 collection of Fendi Donna & A look from the fall/winter 2017 collection of Gucci
That much was clear at Versace, where the house's namesake designer, Donnatella, channelled positivity and female empowerment with a series of pieces emblazoned with words like Unity, Courage and Love. And while the collection borrowed from the traditions of man-style tailoring – as in the 1980s, Versace used suiting as a way of making women feel aesthetically powerful – there was a duality to it, with wool coatdresses paired with sheer slips, double-breasted wool tailoring with zip-away, belly-bearing tops. The tailoring itself was particularly interesting in its cut, with wide shoulders emphasising a nipped waist, and interesting slicing (thigh-high mid splits on skirts, and waist-length blazers). Jil Sander showed sharp-lined tailoring, too, something for which the house has become well known. Here, though the intention was to conceal rather than reveal, with oversized wool blazers that swept down the body to the mid-thigh, and bold double-breasted coasts (the most striking in rich red) paired with turtleneck sweaters and knee-high boots.
Reports of Alessandro Michele's reinvention of Italian house Gucci have been common in their description of his designs as allowing us to dream. Indeed, his seasonal collections transport us as we journey through a cosmic combination of references as far-ranging as British punk through 18th Century regalia. Fall/winter 2017 was no exception, contrasting the streamlined finishes of Versace and Jil Sander with a 1980s, David Bowie-tinged collection that was as bejewelled as it was colourful. The show, staged the brand's new Milan headquarters, opened with a knitted wool cardigan, but it was the subversive take on it that made it feel modern, worn with a matching knitted beanie, eclectic gold jewellery and studded shoes. Oversized coats were embellished with sequined and velvet flowers and bows, Herringbone wool suiting was cut with flared trousers, and featured velvet detailing, and tweedy jumpsuits were feathered at the edges. This sort of romanticism was evident in the collection of Alberta Ferretti, too, with knitted wool sweaters paired with frilly, sheer skirts, and nautical wool sweaters cut with long, draped sleeves.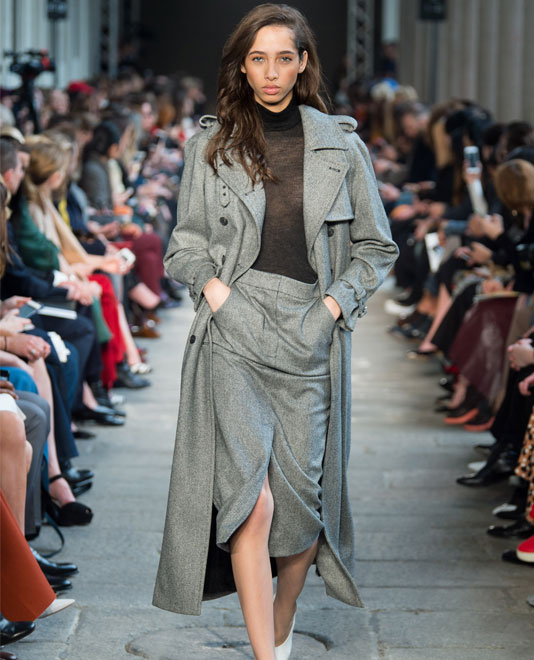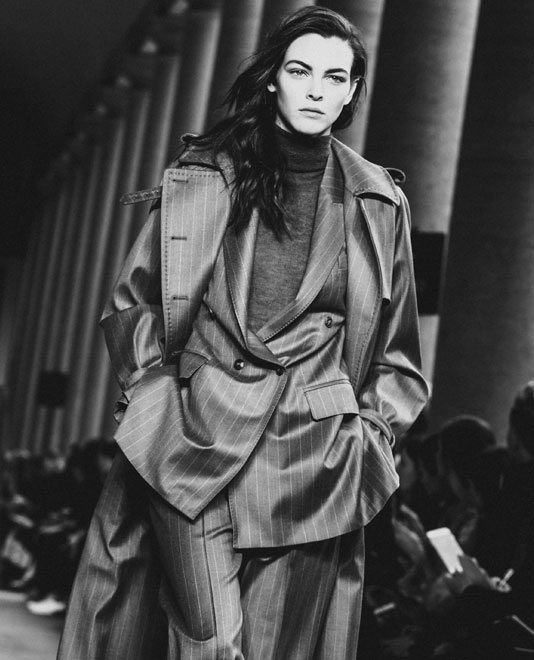 A look from the fall/winter 2017 collection of MaxMara & A look from the fall/winter 2017 collection of MaxMara
Max Mara returned to its roots this season, capitalising on the single piece of fashion that made it so famous the world over: the camel coat. But with a 42-look collection, it expanded the notion of what classic simplicity means today, with garments that were flattering yet wearable. This is included loose-fitting cable-knit turtleneck sweaters, shearling overcoats, double-breasted pinstripe wool suiting and tweedy trench coats. Prada, too, looked to its past, although its DNA is significantly different. Here we saw crochet-like bra tops and knitted workman's caps, patchwork coats, and wool twinsets in diamond argyle in knits. Fendi mixed contrasting fabrics, too, with wool overcoats featuring fur cuffs, checked wool blazers paired with silk skirts, and wool one-piece suits worn over sheer tops.